Whether you like it or not, businesses that rely on customers for growth are involved in funnel marketing. With changes in policies, digital growth, and algorithmic changes, Funnel marketing has evolved over the years.
Terms like Conversion Funnel and Sales Funnel are being used hand-in-hand, and the approach has dramatically changed. A marketing funnel aims to acquire clients for your services or products despite them being cold prospects.
Therefore, it can also be referred to as Conversion funnel marketing. Funnel marketing also has customer conversion strategies which are commonly called Upper Funnel and Lower Funnel marketing.
Understanding The Concept Of "Funnel" In Marketing
The funnel in funnel marketing has a significant meaning. The shape of the funnel was an inspiration for naming this marketing strategy. A funnel in marketing refers to a wide net being cast to cold prospects and narrowing down the audience, which gets converted to a guaranteed client or customer.
However, that being said, these days, with an exponential boom in the digital space, casting a net without the right strategy will lead to your downfall. Therefore, getting accustomed to the customer journey funnel and conversion funnel analysis is essential.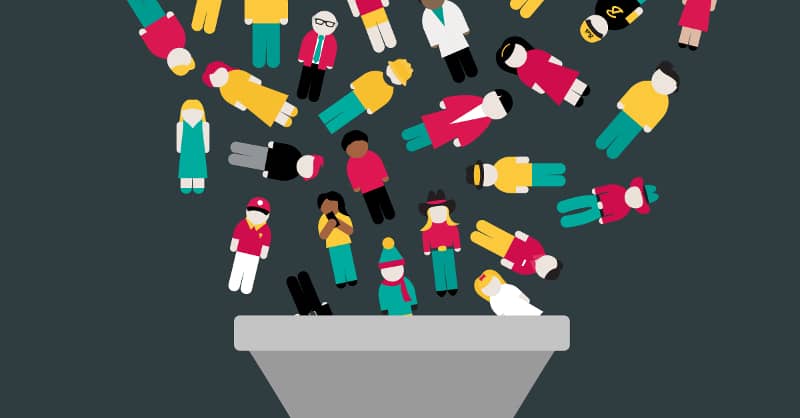 Commonly Faced Issues With Funnel Marketing Strategies
Since your business relies on customers and clients, it is very important that you take the right approach to your funnel marketing strategies. It is likely that you will face issues with lower subscriptions, customers purchasing a single product, or having good traffic and low leads. However, email marketing, cold reach outs, boosting product advertisements, and other strategies can easily tackle these issues. The point being for every issue you face, there is a marketing solution; however, you need to be patient and work on getting leads with a conversion marketing funnel.
Bringing Target Audience To Life: An Essential Strategy
The backbone of every funnel marketing strategy is using Target Audience or creating a persona. Of course, this depends on careful market research, identifying customer psychology, strategizing reactions to sales advertisements, and more. This helps you generate a customer funnel with a targeted strategy that generates leads and thereby provides business growth.
So you might wonder, what are the various ways to collect data on the target audience? For starters, to get the attention of a relatable audience, you can download a free eBook, seminars, presentations, competitor analysis, and more.
While preparing a persona, you also need to be prepared to answer expert questions related to client or customer problems, be able to cater to their needs, and provide them with solutions in the form of your services or your product. Time and again, Rank-Jacker has proven its capability and knowledge of engagement funnel and marketing ways you will follow to grow your business that has directly impacted businesses and boosted sales.
Stages Of Funnel Marketing
Each stage in the funnel marketing is classified based on a purpose with regard to customers' or clients' actions. There are four major stages in funnel marketing: Awareness, Consideration, Decision, and Buy.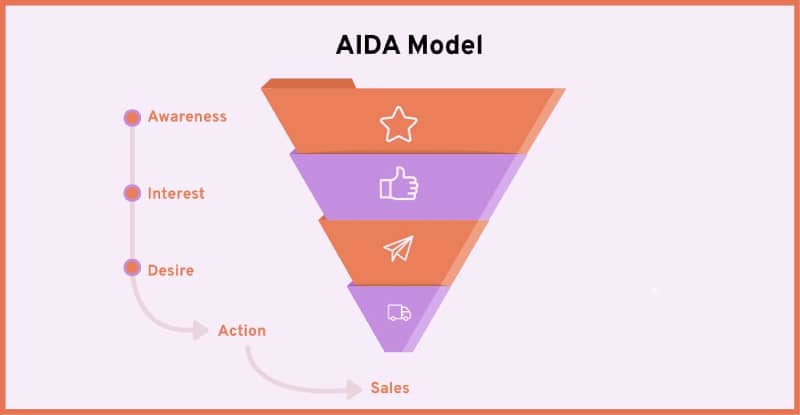 1) Awareness Stage
The first stage is establishing your presence online, which is the beginning of the customer journey funnel. Next, the Awareness stage utilizes social media marketing strategies, hosting events, navigating brand voice, SEO, and other marketing campaigns. Finally, the Awareness stage revolves around making your brand known to the masses and being a leading prospect in the competition. You can easily achieve this with knowledgeable and educational content, website content, presentation, email newsletter, referrals, collaborations, and more.
2) Consideration Stage
Out of the wide net of information you have cast, which revolves around your business, the next stage in funnel marketing is referred to as the consideration stage. In this stage, you will have filtered traffic from a wide audience to those who are genuinely interested in the services or the products you offer. Here you could work on content strategies like eBooks, sell sheets, Cost per click, solution-based content, landing page conversions, blog posts, and lead quality. Such a strategy will create a strong foundation for cold prospects to decide whether to avail of your services or buy your products.
3) Decision Stage
This stage is important to generate leads, as the decision of the customer or the client will directly impact your sales growth. For an effective decision from customers, you can make use of customer testimonials and feedback and work on providing detailed content that doesn't make the customer suspicious or doubt your services.
4) Buy Stage
The Buy Stage is the final stage of funnel marketing, where you get your customers. Here your prospective customer needs to be convinced to buy the product after carefully reviewing every bit of information you have used in your marketing stages. The solutions need to be detailed in order to succeed in this stage. The Buy Stage is called Lower Funnel Marketing, specifically focusing on converting leads into customers or clients, and is the lead funnel stage.
Some Examples Of The Buy Stage Include:
For a physical product, a demo video, customer testimonial, reviews, and actual image of the product will make a great impact.
You can provide your portfolio, client journeys, and explicit web content on your service offering with a high readability score for businesses offering services.
What is Upper Funnel Marketing?
The Upper Funnel marketing strategy focuses on the first stage of acquiring a funnel where you share your prospects to the digital space. It is also referred to as the awareness funnel stage. Here you try every marketing strategy to establish awareness. In Upper Funnel Marketing or UFM, you build the upper portion of the lead funnel stages when put into a pictorial perspective. Some digital marketing agencies are also considering using social media marketing funnels, mainly used to create brand awareness for their faster reach. Hence, the purpose of the lower and upper funnel marketing strategy is to generate leads to conversions and thereby, loyal customers.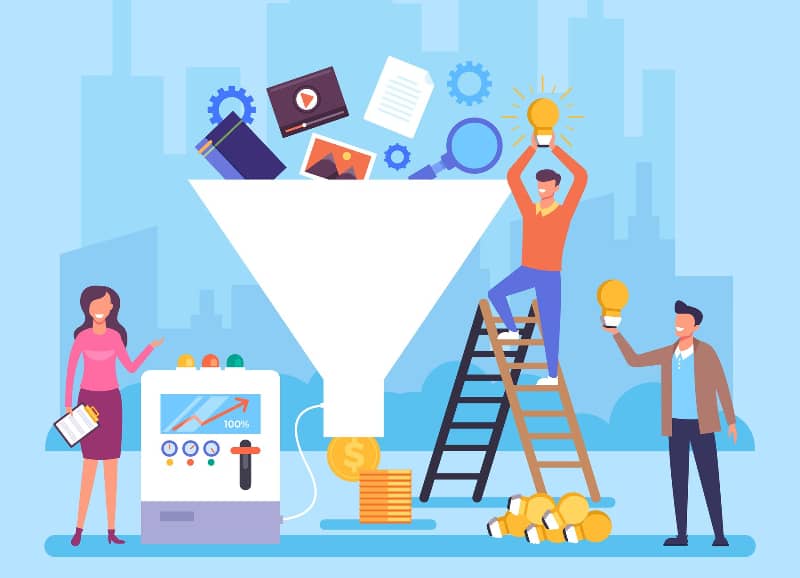 How Is Lower Funnel Marketing Different From Upper Funnel Marketing?
Upper Funnel marketing refers to the first stage of the acquisition funnel, while Lower funnel marketing is the last stage in your sales lead. The former is where you attract wide traffic, which then undergoes a kind of filtration system where, at the end of the stage, you get customers who are genuinely interested in what you offer. Hence, the final stage or the lower funnel marketing directly impacts your sales and boosts business growth.
The Consequences Of Poor Funnel Marketing Strategies
Funnel marketing strategies are the backbone for the success of any business in the digital domain. However, without the right approach, your business will have to face consequences that can directly impact your brand's essence and put your efforts in vain. Here are some of the consequences of a poor funnel marketing strategy.
Lower ROI
The investment you have made in your marketing strategies, your business, and yourself will all be in vain as you will not get the desired results. For instance, if you had targeted the sale of 100 t-shirts and if you have sold a couple of t-shirts, you get a wide margin. Hence, it is a failure at all levels.
Stunted Business Growth
Failure in your funnel marketing strategy also leads to lower leads, directly impacting the probability of generating conversions for prospective customers or clients. Hence, with poor sales, your business growth is stunted.
Dilution Of Brand Presence
Of course, with a competitive environment, your brand presence will be diluted and rank considerably lower in visibility if your funnel marketing strategy goes haywire.
Investment In Time
Lastly, the time you have spent reaching the lower end of the funnel will go in vain, especially if you had a goal of succeeding in your business.
Outgoing Thoughts:
The journey isn't done for your sales funnels until and unless you acquire customers. You must be dominant in your approach and use the social media marketing funnel while closely working on the lead funnel stages. You can tackle some of the problems with poor funnel marketing strategies by working on your content marketing funnel and conversion funnel optimization. Now that you have understood the purpose of the upper funnel and lower funnel marketing stages, you can embark on your journey or avail of our services at rankjacker.com. It is time to work on the best marketing tactics for boosting your sales and becoming a successful business.