Focusing on digital marketing efforts comes with numerous aspects wherein the buyer's persona and buyer's journey play an elemental role.
The principal aim of the buyer's journey is to offer the best solutions to potential prospects right through every step of the decision-making process.
This entire journey needs to be understood well by any business, marketing agencies, SEO providers, etc. for the following reasons:
For encouraging solution-focused marketing
Helps you to create and optimize relevant content at every stage
Helps you build your brand trust before you make a sale
Not only this the content you create plays a crucial role to reach your target audience at every stage as in today's era we have an astonishing 4.66 billion approx. active internet users of the internet world over.
So, valuable and useful content during every stage of the buyer's journey will have a great impact on your revenue generation while reducing COCA (cost of customer acquisition).
As you read below, I have covered every aspect and the content that needs to be created at every stage in a well-organized way.
3 Stages Of The Buyer's Journey
Awareness Or Know Stage
In the initiation stage of a customer's journey, a cold prospect gets acquainted with the fact that their problem needs a relevant solution.
Any potential customer then starts searching online for any content piece that notifies them about those specific issues or problems they are undergoing.
Suppose: Some potential customer wants to go for their house interior makeover then they will start searching for content on relatable sites that will offer valuable suggestions in the beginning.
These recommendations could be quality, appearance, budget, or concerned with other headings that favor their research and queries.
Over here the prospect is not focusing on buying anything and just wants to gather basic knowledge about home décor.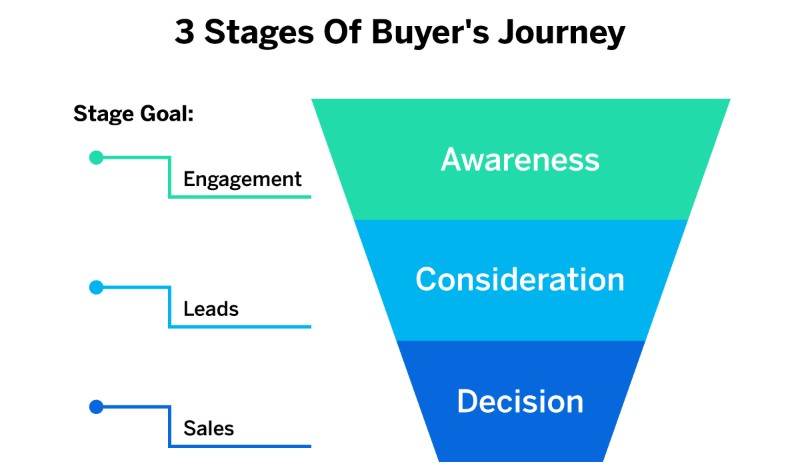 Creating Content
The research will be purely generic, somewhat neutral, and educational to the consumer.
During this phase, brands need to be highly impressive in their approach by providing valuable information that covers queries such as:
What, where, who, why, how, troubleshooting, and more.
Along with online research, the customers also go for word-of-mouth recommendations in some cases but that will also be done online.
Since your outreach is massive and the content pieces you create have to cater to a vast audience and the content type that works best and needs to be crafted here would be:
Blogs (informational/educational)
Social Media Posts
Video
Infographics
Podcasts
E-Books
"Put yourself into the customer's shoes and then create content using those keywords used by them for research during the awareness phase. The content should not just be useful but should assimilate all those keywords in a fruitful way."
Consideration & Comparison Stage
In the second stage of a buyer's journey, the cold prospects turn into warm prospects as they are completely aware and have identified their problem thereby ready to find a perfect solution.
Now what they do is – evaluate brands, and compare feasible options further shortlisting the solutions.
After narrowing down their research they will carefully assess all the related brands, considering factors such as product features, pricing, customer reviews, and the overall brand image.
Along with all other things customer reviews are crucial as it's pretty natural to believe what the real users of that particular brand or service feel and have given their feedback for rather than the words of the corporate brand itself.
So, during the consideration and the comparison stage, the potential customers will surely study and weigh everything properly before entering the final stage of the decision-making process.
I am carrying on with the same example explained above: After identifying the related issues before a customer starts with their home décor, at the consideration stage they will find the related solutions and best types of carpets, paints, furniture, blinds, and whatever more they were seeking for.
Preferably, the buyer's choice would be something that adds value and is cost-effective too.
Creating Content
The prospects will pick out the best-fit solutions for the product or service and the content at this stage should be created answering the queries such as:
Which, best, types, service, solutions, reviews, etc.
The content you make should always be educational, useful, and valuable irrespective of the stage.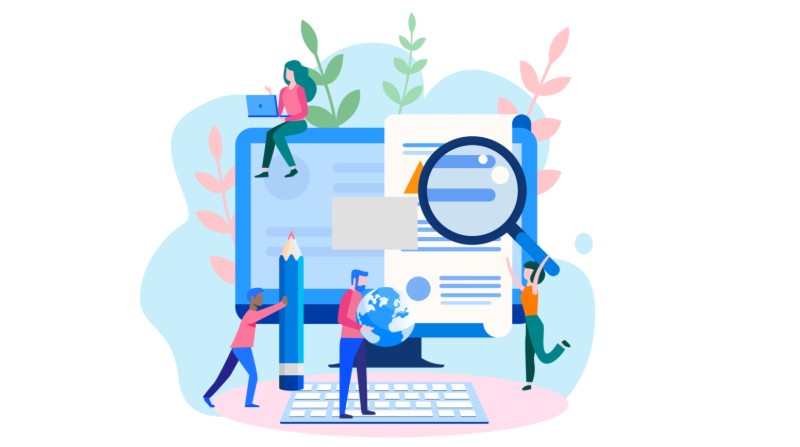 Always remember that the more accurate and suitable information that provides relevant solutions to your readers works the best. Through such content, it will be easier for you to establish a strong connection with your target audience.
The content you will have at this stage should include:
Webinars
Case studies
User Guides
White papers
Podcasts or videos
Though valuable blog posts also hold importance at this stage their tone and topics will vary from the awareness stage. At this stage content that offers a comparison of products or relevant solutions could serve the best purpose.
Imagine like your client. If you were at the consideration stage, the words which you would have used during your research for problem-solving should be incorporated in a natural way into your content.
Decision Or Action Stage
At this stage of the buyer's journey, the research for getting educated about the brand, the consideration, and comparison is over.
The buyer is fully aware and has a clear understanding of his queries and a confident approach as to how the problem needs to be solved.
Still, there are chances that they need some final information and for this, just the factual specifications may not be enough and some emotional element will be required based on the relationship After shortlisting their choices the buyer is a hot prospect/hot lead and is ready to take action for buying.
Creating Content
The content that you need to create here doesn't need to be educational but conclusive. You will be required to share through your content as to why a customer should choose your product or service for solving their issues.
The words related to queries of buyers which you will need to answer would be:
Brand, buy, deals, discount code, etc.
You can cover all the topics through:
Webinars
Product Comparisons
Testimonials (video)
Demonstrations
Free Trials
You should think like your potential buyer. There are chances that some will land up on your website when they are already in the decision stage, and offer assistance to them by a chat feature that lets them connect with a salesperson immediately.
Summing Up:
The prospective buyer may fall in one particular or all the stages depending on his or her need. You should act accordingly and serve the best in every way possible.
Portray yourself as the experts in your field and reach your ultimate goal of initiating sales with your clients.
I hope the above write-up makes sense and helps you get a clearer understanding of what your buyer expect at every stage of their journey.