One of the most important factors in gaining organic search traffic is making sure your website is visible to search engines. To help improve your site's visibility, SEO plays an essential role. Specifically, SEO focuses on improving the performance and ranking of your website across different search engines by optimizing it with such techniques as keyword research, content creation, and artificial intelligence (AI).
Although SEO comprises various components, off-page optimization has always been the most vital. The Backlinks have to be influential in boosting a website's rank but they must appear to have been built organically to be effective.
So the best way to keep track of the quality of backlinks is to build them in a structured way. It allows you to control the quality of links pointing directly to your money website
But how do you go about building links in the best way possible? In this article, we will discuss the backlink pyramid as a concept & how it helps create a positive impact on off-page SEO.
What Is A Backlink Pyramid?
A backlink pyramid refers to the tiered link structure pointing back to a website, its a way of establishing a hierarchy among different backlinks, giving you the ability to control the quality & number of backlinks to your website and subsequent backlinks to them. It helps to ensure that a website's backlinks have further depth in terms of how much link juice each of them has.
The features of a good backlink pyramid are as follows:
Tier 1 Backlinks are reputable and relevant to the link destination.
Tier 2 Backlinks Links are from high-quality domains & help promote the link target's credibility and authority.
Tier 3 Links help add further depth to Tier 2 links
Link Building At A Glance
Link building is a critical part of SEO; as such, it's important to have a plan that incorporates proper link prioritization. The most important rule to follow to build the best possible backlink pyramid is to make sure your links are targeted properly in a natural way and that their importance is appropriately assessed.
You should focus your efforts on categorizing your backlinks in order from the most significant and challenging to achieve, through the middle ones, to the more common but easiest to obtain.
As you move down this pyramid, however, the quality of links diminishes while their quantity increases. This could be a major obstacle for anyone looking to follow current trends and reliable SEO practices when it comes time to build their web presence.
The backlink pyramid is the name given to the pyramid shape formed by these tiers. The websites at the top of the backlink pyramid (tier 1) receive the most link juice from websites at the bottom of the pyramid (tier 3).
Application Of The Backlink Pyramid: The Three Tiers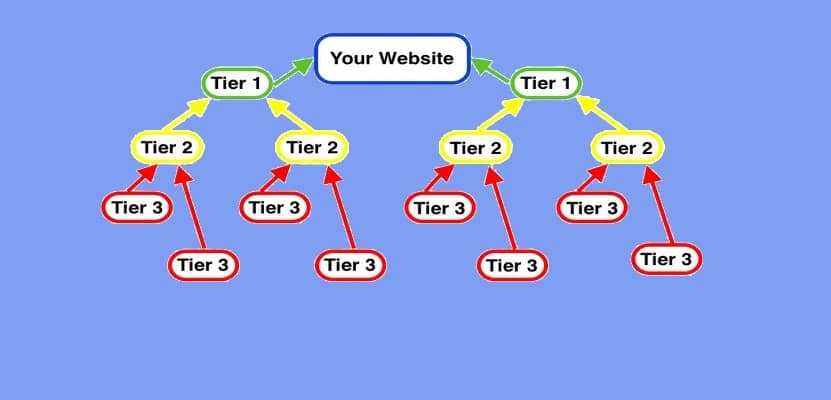 The three tiers to building backlinks to your website are:
Tier-1: Highest Quality Links
When it comes down to gaining high-quality backlinks, the number of backlinks you receive will be highly significant. Consequently, when targeting Tier 1 links, you should focus on linking out to reputable websites with high domain authority and authority graphs that show a strong relationship between your website and the pages linked from there.
Generally speaking, building backlinks to your website at this stage should be similar to what is done during outreach efforts—placing around 2–3 links on the pyramid top.
Tier-2: Medium Quality Links
When it comes to backlinks, the higher up your site ranks, the more links there should be supporting each one. Ideally, you would want around 8–12 links from high-quality sources in Tier 1 and 30 in Tier 2.
Although these links won't be of the best quality, they will help strengthen the authority of Tier 1 backlinks. For creating links for your website at this stage, consider forums and blogs as good places to start—not too much time and effort are required here.
If you are looking for a more manual approach, then Google and other search engines may appreciate what you are doing since automation traces are easy to detect.
Tier 3: Low-Quality Links
Once you have built a strong foundation of backlinks with Tier 2 content, it's time to take a break. During this pause, consider ways to build the basis of your backlink pyramid more efficiently.
For Tier 3 content, you will need to create and maintain an enormous number of links. While 10 links on Tier 3 are necessary for each page of Tier 2 content, if you have 30 links in the middle layer, then tier-3 will have around 300 links during this phase.
Additionally, consider various methods that would simplify linking and improve your quality control, such as partner programs. Automating tools can be helpful too, but always weigh the benefits against possible consequences before making any decisions.
The Effect Of Backlink Pyramid On Off-Page SEO
Off-page SEO includes any activity that can help improve your search engine ranking position outside of what's typically done with paid advertising and link building. These activities include guest blogging, social media marketing, etc.
One of the reasons why having a backlink pyramid is so important for off-page SEO is that it can lead to better visibility on search engines and increased traffic.
Furthermore, increased traffic can lead to an even greater boost in your website's SEO rankings and attract more potential customers.
Revenue will also grow as a result of the increased trustworthiness that will be built up with customers due to the high-quality links contained within your backlink pyramid.
Additionally, establishing trust and credibility with a proper backlink strategy on off-page SEO can help to expand your customer network.
Conclusion:
A backlink pyramid is an important tool for SEO, as it can improve the ranking of your websites in search engine result pages. This can increase visibility for their content and also help with link building since it will help increase the number of incoming links from other websites.
Through a backlink pyramid, your content is more visible on the web and has a greater chance of being found by potential customers. By analyzing the structure of a website's link profile, you can determine where the most relevant and valuable links are coming from. This information can then be used to improve the visibility of a site's content through the use of high-quality backlinks.
If you're looking to improve the visibility and rankings of your website on search engine results pages (SERP), look no further than RankJacker SEO. Our comprehensive SEO platform can help you compile a strategic plan for link building that will result in better visibility and rankings for your clients. With our team of experts available, there's no excuse not to succeed!