Search Engine Optimization or SEO is an ever-evolving field and requires consistent attention if you want to stay on top of your digital game. Even if your website contains the most pertinent content in your field, search engines may not give it a high ranking. This can be the result of a lack of knowledge about current SEO trends, or the strategies used by your competitors.
However, the SEO industry is complex and even innovative SEO professionals struggle to keep up with the changes. This is where SEO competitor analysis tools come in very handy. To comprehensively cover your domain, you must deploy the best competitor analysis tools to guide your SEO strategy.
This blog post discusses the 6 finest SEO competitor analysis tools you can use to optimize your website and outrank your rivals.
What Is An SEO Competitor Analysis Tool?
An SEO competitor analysis tool is a software or platform that helps analyze and compare websites' ranking factors and SEO strategies. The tool can help identify opportunities to improve your own website's ranking in search engines. The primary goal of using this tool is to evaluate the strengths and weaknesses of your competitors' SEO strategies and find ways to differentiate yourself and improve your website's ranking.
6 SEO Competitor Analysis Tools To Beat Competition
Here Are 6 SEO Competitor Analysis Tools That Can Help You Stay Ahead Of The Competition And Sustainably Improve Your Web Traffic:
1. SEMrush
SEMrush is a versatile SEO and marketing tool that offers keyword research, site audit, and backlink analysis functionalities in addition to detailed SEO competitor analysis. Its user-friendly SERP analysis tool is easy to learn and use for any domain.
The dynamic 'Tooltip' feature lets you understand every link, button, and section so that you can create your specific conditions for performing SEO competitive analysis.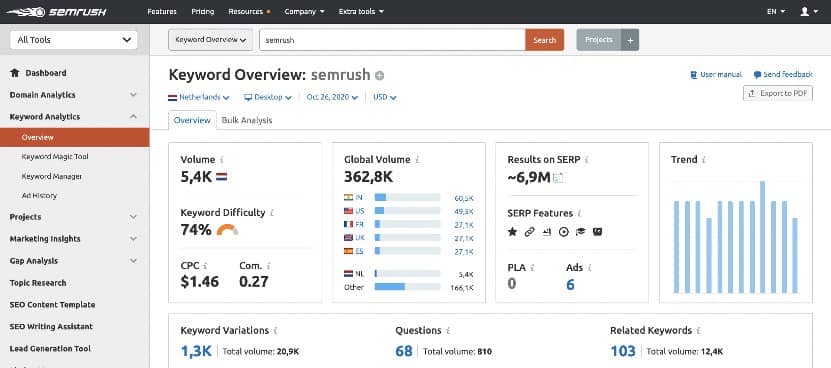 When you search a domain-specific keyword using SEMrush, the tool generates a list of the top 100 Google results and assigns an authority score to each URL. Alternatively, you can directly search a competitor's site by entering their URL. Key metrics of each URL are already listed on the tool. You can perform advanced SEO competitive analysis through:
• Backlink research with year-on-year growth.
• Traffic comparison as per sources and volume.
• Referring to domains as per general niche areas.
2. Ahrefs
The SERP checker tool by Ahrefs is one of the best SEO competitor analysis tools available in the market. With both free and paid options, Ahrefs offers a comprehensive list of functionalities that can make your competition analysis in-depth and intuitive.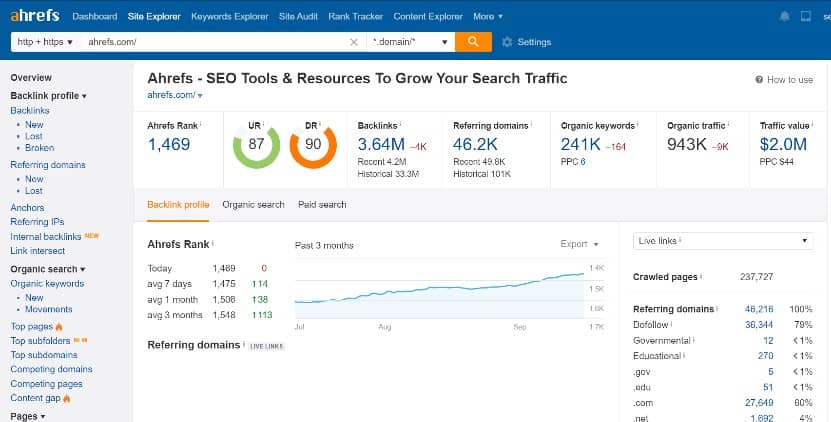 When you search a competitor's URL with a specific domain keyword, it generates a SERP overview with page and domain rating metrics. These metrics include volume and source of backlinks, domain rating, referring domains, traffic, and keyword value (in dollars).
Ahrefs also offers a content gap analysis as part of its SEO competitor report, to help you plan relevant and impactful SEO content for your website, with the highest probability of ranking improvement.
3. MOZ
Moz is an all-in-one digital marketing tool that provides powerful SEO competitor analysis and insights across domains. The domain authority metric was originally coined by Moz and indicates how likely your or your competitor's website will rank on SERPs.
Moz employs a series of metrics to compare URLs and generate custom analytic reports to guide your SEO and content strategy. Like the other tools, you can directly search a competitor's URL with Moz or perform keyword research to find out top-ranking competitors in your domain.
It also conducts site crawls to determine content gaps, tracks and updates SERP rankings weekly, and performs backlink research.
4. SpyFu
If research is not your strong suit and you would rather find an SEO competitor analysis tool that does all the work, then SpyFu can be a good fit. The SERP analysis tool of SpyFu provides unique analytics like the ranking difficulty and rank change of any competitor website over a given period.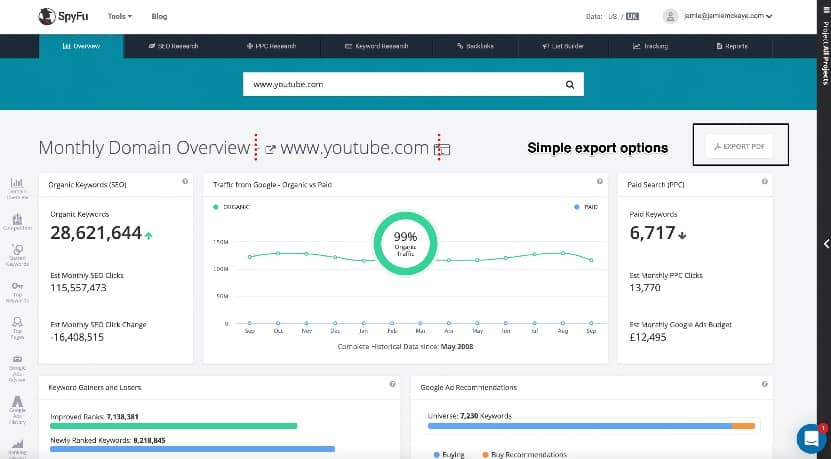 The tool also indicates the number of .gov, .edu, and homepages that are in the top 100 search results. This makes it easier to screen relevant competitor content and adjust your SEO strategy accordingly. SpyFu also has a backlink research feature that lists the strongest forum backlinks for any keyword and catalogs all the pages that link back to your competitors' sites.
5. SimilarWeb
SimilarWeb is a holistic SEO competitor analysis tool that goes beyond SEO competitive analysis. In addition to standard comparative metrics like traffic and keyword density, SimilarWeb also provides insights like audience demographics and geographical traffic share for your competitors' websites.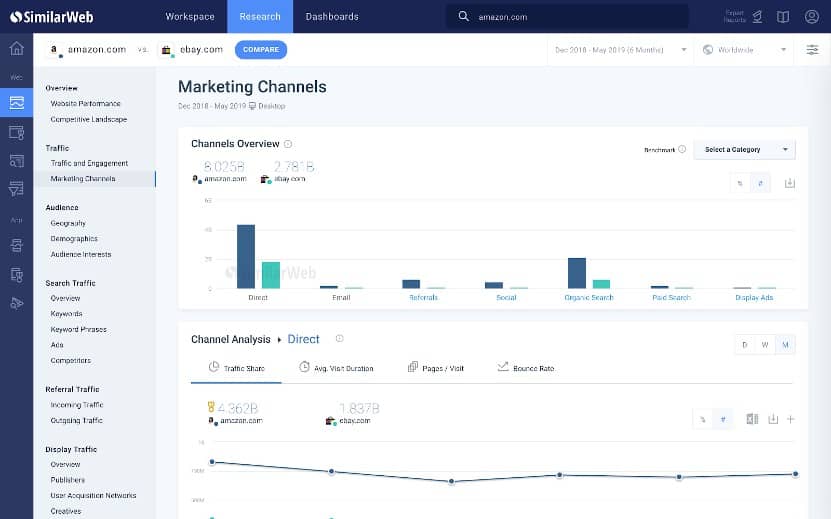 Traffic statistics can be compared for two or more competitors by simply adding their respective URLs. You can also use the advanced features of SimilarWeb to determine traffic sources of your top competitors, compare their market share, and utilize those insights to improve your content.
6. Ubersuggest
Ubersuggest is an SEO competitor analysis tool that can help you get information about your competition's keywords, backlinks, and web pages very easily without any hassle. All you need to do is put your competition's URL in the search box and press enter. You will be provided with all the SEO data regarding your competition.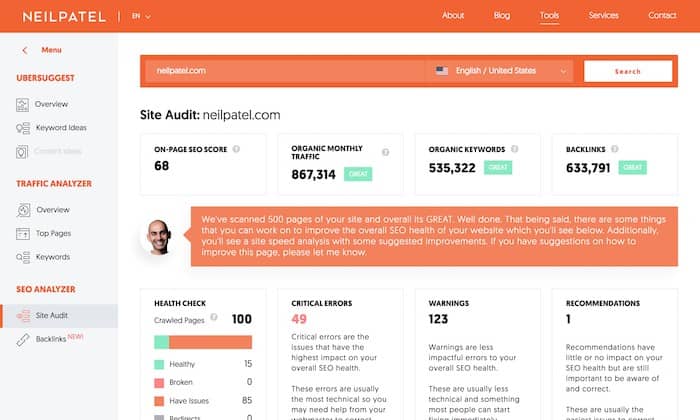 Here you will be able to find keyword lists, estimated visits, volume, position, domain score, and many other paradigms. You will also be able to understand the backlinks of your competition through this tool which will in turn allow you to formulate your SEO strategy more efficiently.
Bottomline:
SEO competitor analysis tools can expand your understanding of your target market and expose you to some of the nuanced SEO strategies being deployed by your competitors. With the right tools at your disposal, you can systematically plan high-impact content creation and distribution campaigns. Insightful SEO competitor reports and analytics can pinpoint content strategies that are working for your brand and those for your competitors.
If you are on the hunt for an SEO partner to realize your true potential, then RankJacker SEO is an excellent choice. The designed SEO services of RankJacker not only help you conduct effective SEO competitor analysis but also build scalable SEO strategies to improve your search engine rankings. With RankJacker SEO you get access to both SEO competitor analysis tools and comprehensive solutions to improve your web traffic and overall user experience (UX). So why wait? Contact now!