In today's world of digital marketing, the desire to rank on top of SERP is seriously high. When it comes to securing visibility, many businesses indulge in neck-to-neck competition. Are you also an emerging company looking for ways to grow? If yes, then including SEO (Search Engine Optimization) in your list of digital marketing success is a great idea.
Many people think that SEO is a complex and time-consuming process and hence, think 10 times before incorporating it into their digital strategies. However, surprisingly, SEO is a blessing in disguise. In terms of scalability, a white-label SEO program may prove to be the best solution. There are a variety of white-label SEO strategies that can help you land on the first page of Google.
You will also be pleased to know that with a white-label SEO reseller program, you can sell SEO services and products that your clients may need, that too without compromising on expertise. Hence, if you have not yet explored white-label SEO reseller services, then it is time you had begun.
Continue reading to know more about how a white-label SEO reseller program can help you increase your profits. Before delving deeper into the topic, it is important to understand what exactly a white-label SEO reseller program is.
What Is White-Label SEO Reseller Program?
White-label SEO refers to a service delivery model where a client receives SEO services from an SEO agency under the agency's brand name, however, a different business performs the actual job. As a result, the company may provide SEO services to clients without having to spend money on the necessary resources, such as a staff of SEO experts, equipment, and technology.
The business offering white-label SEO reseller services serves as a provider, while the agency is a reseller of those services. The reseller sells the services under their brand name after tailoring and packaging them to match the unique needs and demands of their clientele. The main aim behind using white-label SEO reseller programs is to help businesses improve their online presence and visibility.
White-label SEO reseller services are mainly used by digital marketing organizations, web design firms, and other enterprises that wish to offer SEO services to their clients but lack the staff or resources to do so. Are you wondering, is SEO worth it for small businesses? No matter whether small or big, SEO can prove to be a life-changing tool for all organizations.
Why Do Companies Use White Label SEO Reseller Programs?
Now that you know what a white-label SEO reseller program is, you must be wondering what makes white-label SEO reseller programs so popular among companies. Ponder no more.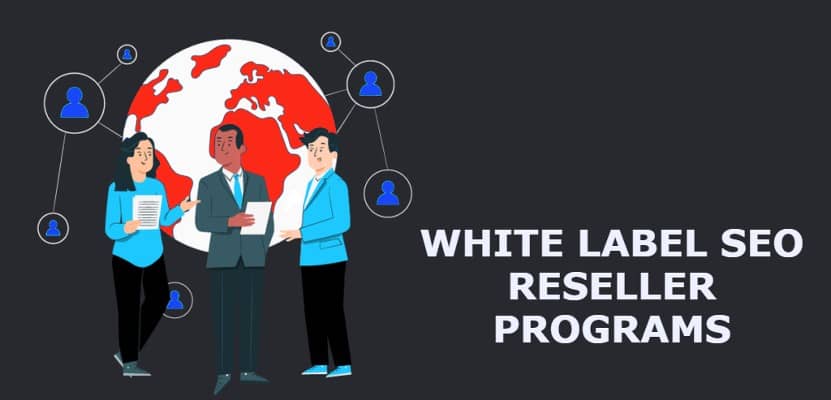 Here Is Why White-label SEO reseller services become a reasonable choice for businesses:
• SEO reseller services allow an increase in profit without spending additional amounts on resources or recruiting new employees for handling SEO processes.
• By broadening your solution offering as an MSP (Managed Service Provider), companies gain a competitive edge and thereby secure a profitable future.
• With white-label SEO reseller programs, companies can broaden the spectrum of services they offer. This in turn can help them widen their client base and attract some high-value clients.
• White-label SEO reseller services can open up large new potential markets and help companies sell more of their core services.
• One of the major benefits of SEO reseller services is that they allow companies to show their clients objective reports and metrics that prove ROI.
• By offering SEO reseller services, which are a complete solution, companies can significantly improve their retention rate.
• By leveraging white-label SEO reseller services from an agency, the clients can build a much better SERP presence and hence witness dramatic growth.
5 Ways White Label SEO Reseller Programs Can Boost Your Profits
Time and again, white-label SEO campaigns have been extremely beneficial for both agencies and clients. If you are still doubtful about getting an SEO reseller website, then consider the fact that they can significantly help you boost your profits significantly. With a team of SEO experts at your dispersal, you can expect optimum campaign optimization and management.
The best ways in which a white-label SEO reseller program boosts your profits and growth are:
1. Less Spending On Hiring In-House Teams
To enhance their online presence, companies have to spend a lot on hiring expert digital marketing teams. However, you can cut down this hiring and maintaining costs with white-label SEO reseller services. With a white-label SEO reseller program, you get a team of SEO experts without spending extra on hiring new employees.
Hence, you get to save a lot on salary, recruiting costs, working equipment, taxes, and much more. You get more benefits while spending less. It becomes a win-win situation if you opt for SEO reseller services and hand over your SEO processes.
2. Get Time To Focus On Your Agency's Other Core Competencies
When we say SEO is a complex part of the digital marketing strategy, it comes as no surprise. Moreover, with the frequent updates and the ever-changing algorithms, keeping a track of the latest search engine optimization trends can become a bit difficult. It requires constant training, testing, and persistent search to maintain a high ranking in SERPs.
However, with SEO reseller companies, you can leave all your SEO-related worries to the proven and experienced SEO team. This will give you spare time to focus on your agency's core competencies like sales, building relationships, growth, and so on.
3. Drive Growth By Generating Organic Traffic For Your Clients
To grow successfully, businesses need essential organic traffic along with a good reputation, efficient social marketing, etc. It is at this point SEO reseller services come in handy. SEO is a long-term investment that provides your business with great returns over time when done correctly.
That is why instead of becoming an average SEO generalist, it is more beneficial to engage a white-label SEO reseller expert for long-term benefits. They can help you swiftly reach your goals like SEO growth, improved ranking, increased traffic, etc.
4. Avoid Investing More Money Into Expensive PPC Campaigns
The struggle of achieving and maintaining a high ranking on Google SERP is real. Different companies opt for various ways to reach this goal. Some rely on Google Ads search or PPC (Pay-Per-Click-a method of 'buying' visits to your site) campaigns for making their SEO campaign a success quickly.
Both Google Ads and white-label SEO reseller program work to drive organic traffic to clients' websites by targeting appropriate keywords. It involves intense keyword research and analysis. The major difference is that with Google PPC Campaigns you must constantly invest, while with SEO you can remain at the top without paying much. If you have an efficient SEO reseller agency at your service, then with little patience, you can enjoy growth and sustain organic traffic without investing huge amounts.
5. Earn More By Creating SEO And Complimentary Services Packages
As an agency or an organization, your major aim is to increase your revenue and profits while giving exceptional user experience (UX). And, not every agency has the resources to effectively develop into an SEO expert. Your resources may be put to the test if you decide to train your internal team or hire an expert to fill the position.
Being an SEO white label reseller enables you to expand the range of your present offerings, whether your clients want you to assist them with local search or your prospects won't employ you until you offer an SEO package.
White-label SEO reseller programs help you broaden your client base, but what if you can further increase your profits? If you offer packages that provide SEO reseller services along with some of your other core services, it is going to give a huge boost to your recurring revenue. Creating packages has proved to be a more strategic approach in the long run than selling individual SEO solutions. This bundling strategy will prove to bring in profits and add value to your brand name.
Conclusion
Promoting online businesses has become a priority. Due to this, SEO has become a crucial part of the digital marketing world. However, since there is no specific path or template that will work for every client, SEO campaigns can appear time-consuming, challenging, and complex. In such cases, as a specialist, you have to approach each client with a tailored strategy.
It is at this point the significance of the white-label SEO reseller program comes into play. White-label SEO reseller services are acceptable, successful, and very helpful for increasing revenue. Selecting the right SEO reseller agency is your best option if you want to reap the benefits of these services without having to cope with the associated complications. Engaging with an SEO reseller program can increase your capacity to manage all your SEO processes with different client requirements. And for your good news, RankJacker SEO can help you reap those benefits.
RankJacker SEO is a top-notch organization that offers high-quality and result-driven SEO reseller services for brands and content marketers. With its effective SEO platform and knowledgeable team of specialists, RankJacker is worth trying. Check out the website today and get a hassle-free experience.