Google Maps have come a long way from just being a platform to map your paths from your location to the destination. It has evolved from a spatial technology to a marketing tool that has benefited businesses allowing them to pop in the search results on Google.
The functionality of Google Maps as a marketing tool is straightforward. When a user queries in a local area search, businesses pertaining to the keyword and the location buffer are listed. Hence, Google Maps can display your business and optimize it making it easier for potential customers to avail of your products or services.
You can better understand Google My Business by taking an example of an Imaging center that offers services like X-ray, MRI, PET scan, doppler, and other imaging techniques. When someone is say around 3 miles away from your business location and they are looking for an imaging center near them, they turn to Google in this desperate time.
When they search for a simple query like, "Imaging centers near me" they come across your Imagine center allowing your business to get discovered. The listings are returned by Google My Business which includes information about your business profile, a review of the business, images of the interiors of the business, and other aspects that help potential clients or customers experience your business capabilities online.
However, this is not limited to Imagine centers, and Google My Business can be used to leverage your business. For instance, hotels, confectionaries, gyms, clubs, law firms, consultancies, and even retail stores can greatly benefit from Google My Business. This increases the probability of getting clients via direct calls and walk-ins and even boosts traffic on the website with focused customers.
Are you still in awe of all of this? The most essential aspects of Google My Business ultimately boil down to location and the proximity of the potential customer or client to the business location. You will rank higher in your listings based on customer reviews, profile completion, and creating an accurate GMB profile.
Insights Into Google Maps Marketing
The concept of Google Maps Marketing is incomplete without understanding local SEO techniques combined with leveraging Google My Business. Creating a GMB profile and optimizing it with SEO helps your target audience reach your digital presence by boosting your local presence and improving sales of your service or product.
Here is a list of tasks involved with Google Maps Marketing;

Optimizing GMB profile with relevant keywords
Profile Completion and Presentation
Attracting customer reviews and ratings
Adding FAQs and CTAs
Timely maintenance of a listing
And more.
Understanding The Vital Role of Google Maps Marketing
Don't underestimate local search results! The volume of local search results is enormous. It has been estimated that around 86% of customers find local businesses online. Furthermore, around 46% of google search volume comes from users seeking services or products in their locality.
Insights into Google My Business
Google My Business or GMB is Google's contribution to local businesses allowing them to manage their business profile on Google. When you create your GMB profile, your business can also appear on Google search results as well as Google Maps. Besides this, the dashboard of GMB is a highlight as it gives insights into the performance of your local listings across Google platforms like Maps and search results. This insight helps you stay ahead of your competitors allowing you to give timely updates and actively respond to customers.
What is A Local Pack?
When you google for a location-based query for a business you are desperately looking for online, you are returned with a map followed by top business results. These top business results or the top three returned results are called a local pack. Local packs are detached from ads or mainstream organic search results. Therefore, the possibility increases of appearing across all three aspects for improved visibility.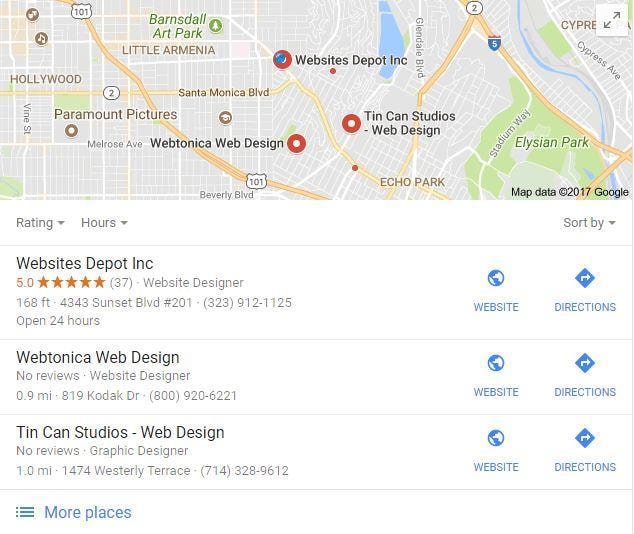 Understanding the Importance of Google My Business
If you want to ace your marketing strategy in local search results, signing up to create a Google My Business profile is quite important. Multiple SEO experts have mentioned that Google My Business can immensely contribute to local search results. The Whitespark survey revealed that these are the vital aspects for local pack rankings;

Google My Business contributes to a 33% boost in local search results.
Reviews help improve local search results by 16%.
With on-page optimization, you get an increased return on local search results by 15%.
Here's what the rest looks like;
Links – 15%
Behavioral – 8%
Citations – 7%
Personalization – 6%
The projection of your business in Google Search Local pack view on your mobile device.
When your queried results are returned for "Shops near me" you will be returned with a map with location pins of local pack businesses that are ranking well in the listings. You get the top three Businesses or results where you can toggle on a button to view all.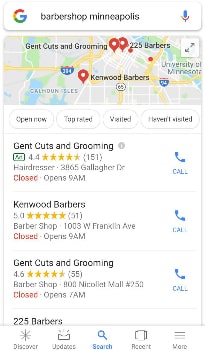 Business View & Pack Desktop View
This view will also contain local listings, pinned maps, essential button links, overviews, and more. You also get to see company briefs and photos.
You can also create a panel on GMB that will allow clients or customers to ask questions to the respective business and get a prompt answer for the same. For instance, whether or not the business is open on a festival, the cost of services offered, and if they are offering the services which the client is looking for online. The Q&A section is followed by customer views.
The Skeletal of Google My Business Dashboard
The GMB Dashboard is an endpoint that allows users to manage their business effectively with various options, and access to core tabs and optimization opportunities.
Home Tab
The Home Tab on the GMB dashboard includes a performance overview, customer photos, testimonials, create post option, and more.
Post Tab
This allows businesses to keep their profile updated and their customers informed on recent changes. Hence, it also allows business promotions and engagement. You can create Call to Action (CTA) posts and enable the reshare posts option on social media platforms.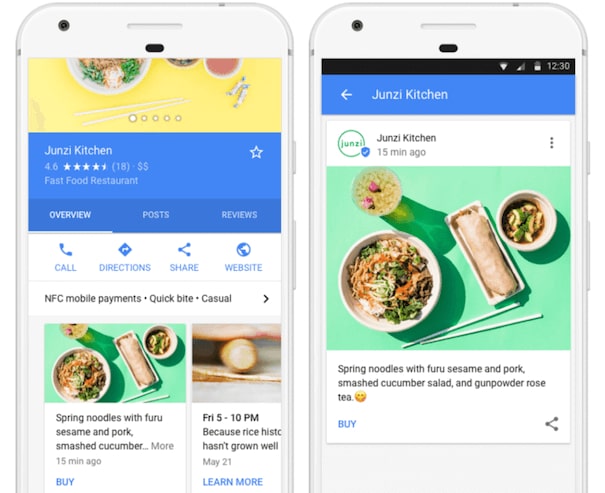 Merits of GMB posts
GMB posts are a great way of networking, promoting, and leveraging your business services or products online with a large audience potential. It is easy for us and offers these services at no cost. Customers will feel connected with GMB and they have a way to voice their opinions. Customers these days get everything they can on GMB and save time on visiting your website as it becomes vestigial in this case.
Info Tab
Here you can get info and additional information about the business such as opening hours, peak hours, business offerings, address, and more. Don't forget to check the short name functionality.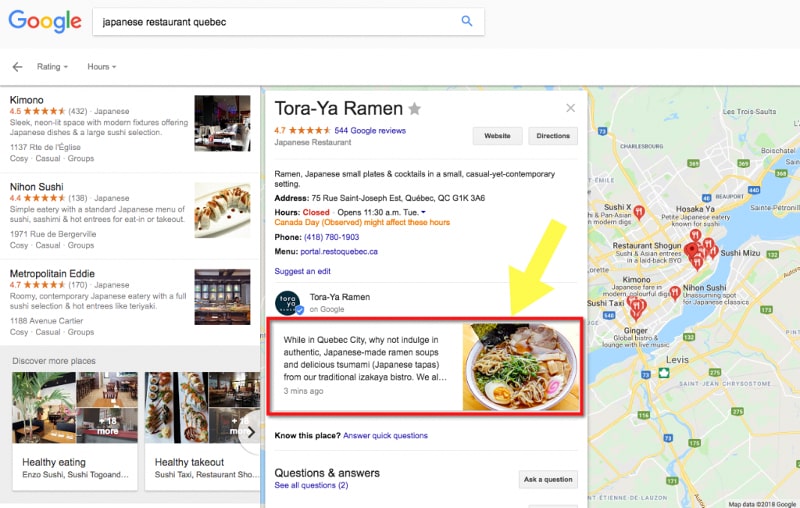 Insights Tab
Here you can get a gist about the performance of your GMB profile such as listing data, traffic, and more. Direct (direct search by business name), Discovery (finding business through a product/service), and Branded (search by brand related to the business) are the three different traffic types. It also gives insights into customer actions.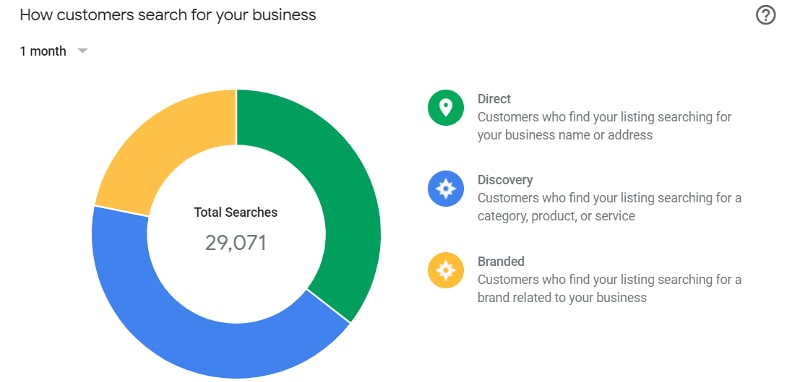 Reviews Tab
Here you can get customer responses, reply to customers, and address queries.
Messages Tab
You can communicate directly to customers when this option is toggled on. The messages are versatile across all devices such as computers, and mobile devices.
Photos Tab
This allows you to project the visual appeal to your customers and leverage it to attract them to boost sales. It is essential that you check Google's guidelines to add photos and recommendations. Check out the Google Support guidelines on this.
Products Tab
With the products tab, you can display your business potential by listing products that are compatible with mobile devices and desktop views.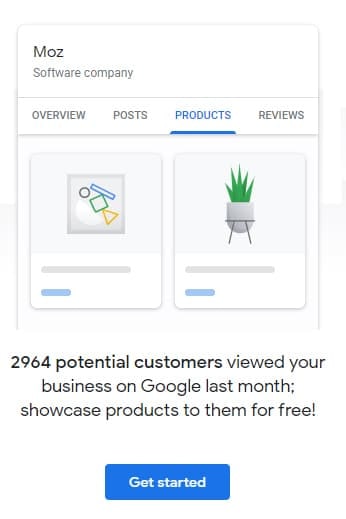 Services Tab
In the services tab, you can list additional services provided which are extended to the primary service offerings. Services are not vital for GMB optimization and so you can use them based on personal preference.
GMB Website
GMB also provides a website builder that allows businesses to create a website without any hassle and integrate it with the GMB dashboard. Hence, you can get started online without any hassle and spending expenditure on building websites by third parties.
The Users Tab
Here you can manage the rights and permissions of users across the domain and effectively manage your enterprise. The roles include Location Manager, Manager, and Owner.
Citations and their roles in displaying Search Results
Citations refer to the mention of your business information online which includes your name, address, contact details, and more. Hence, it offers credibility for businesses and also incorporates social media details, site reviews, and more. Citations play a vital role in returning search results on Google as citations offer credibility to a business that customers can rely on online. Hence, Google finds citations to be accurate and makes it confident to display results online and avoid any conflicts.
Marketing Tips for Google Maps
1) Setting up the Name of your Business
A business name is important to link the identity of your business online and in the real world. This is important in the awareness stage and in creating loyal customers. While adding your business name, ensure that you also include the service name. For instance, Timothy & Sons Legal Services, or Dr. Shah's Clinic. This will streamline the search and boost discoverability.
2) Effective use of Keywords
Keywords are important to tie your business with the queried results of potential clients and customers. This strategy is important for GMB as it will help attract customers or clients to your business with returned results from keyword-specific searches. You can optimize your website by adding keywords to reviews, GMB descriptions, product descriptions, and more.
3) Specifying the right categories
Categorizing your business helps Google to rank you based on that category. Hence, specifying a category for your business will help direct a specific ranking making you dominant in your category. For instance, if you have a restaurant, you can categorize it as a restaurant instead of a hotel as it is more specific. You can specify primary and secondary categories but the former takes precedence.
4) Incorporate basic GMB information
If you want to boost local SEO with GMB then it is important that you include these basic details which include business name, address, and contact number. However, ensure that it is consistent across all social media platforms.
5) Use of Website Links
It is not necessary to redirect to the homepage of your website. You can also keep the interlinking more direct where the customers can directly find what they are looking for online. Hence, they get a more relevant experience and a lower bounce rate on your website.
6) Flood GMB with the latest images
Latest stats by digital marketing experts suggest that businesses with updated images are more likely to get a call from customers (BrightLocal survey). Hence, flood your GMB with the latest images that include the interior and exterior of your business across time zones specified by Google guidelines.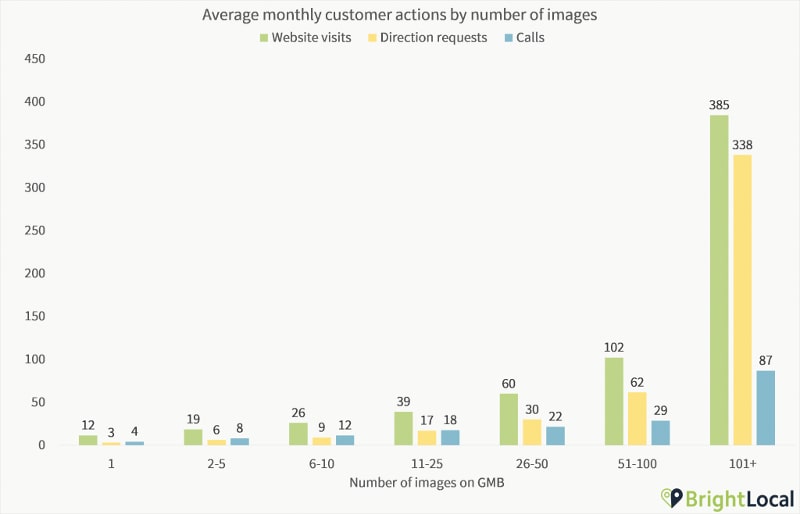 Image source:
Brightlocal.com
7) Establishing credibility with GMB reviews
Customers who come across your business for the first time are likely to avail of your services if it has good reviews and ratings. This is because they trust fellow customers. Hence, you can use this opportunity to establish credibility for your business online.
8) Timely Updates on business
It is vital that you ensure that you have an active listing and keep your customers updated with the latest information. Hence, you are on the positive side of the local listing and maintain a consistent rank, thereby, boosting visibility.
9) Work on Click Worthy GMB descriptions
You should work on using the 750-character GMB description to tell a story that convinces customers or clients to avail of our services. Hence, you interact with customers on an intimate level and establish a unique value proposition. This rapport will allow you to boost sales of your products or services.
10) Work on consistent citations
Citations are important to boost Google's confidence to display results to avoid conflicts. Hence, ensure that your citations are updated across all platforms.
The Bottom Line
Optimizing your Google My Business profile is quite important as most customers find businesses online through local listings. You can boost local SEO and create a platform to directly engage with your customers and clients online. Hence, you create a platform to provide real-time updates and keep your business profile updated while you are there. Hence, GMB is a versatile tool that you can use to leverage your business online.
Check out our Google My Business services, and we will assist you to leverage your business with GMB.