Say that you've set up your website, and now you're in the market for new backlinks to strengthen your website's SEO.
Domain authority and traffic are individual metrics that can help you decide whether a website is worth the backlink.
When shopping for backlinks, should you prioritize websites with dense traffic, or should you go for websites with higher domain authority?
We have a simple guide for you! Let's explore.
Domain Authority Vs. Traffic For Backlinks
Before we go deep into the competitive study, let's first understand what these terms mean.
What Is Domain Authority?
Domain Authority is the formulation of how likely a website can rank well on Google's SERP.
Contrary to popular belief, Domain Authority isn't one of Google's tools. It is an independent metric formulated by Moz.
Although Google doesn't recognize this metric, it greatly impacts how brands design and operate their website.
Website Traffic
Website traffic is the quantification of the average daily visitors that a website gets. This data needs to be qualified for the target audience and nurtured leads.
When you are scouting for backlinks, there are plenty of credible metrics that come into consideration — two of which are domain authority and website traffic.
While most legacy websites nail these features, some still need both.
The Impact Of Traffic Or Domain On Backlinks
Search engine algorithms use the number of backlinks to your site to rank your website. Sites with high-quality backlink authority see an improvement in their SEO and are ranked higher.
But not all backlinks are suitable for your website.
If you have low-quality links, you risk penalization and a permanent ban.
Most high-traffic backlinks are great for your website, but sometimes they appear as spam. High DA links are a great way to boost your SEO and ranking, but acquiring them is a pain.
If you're in this conundrum, we have a guide to help you figure out what to prioritize.
Traffic Vs Domain Authority: A Comparative Study
Out of the many metrics you use to judge a website, traffic, and domain authority remain the most competitive. While both have standalone benefits, landing on one choice can take time and effort.
For example, websites with high traffic may be outside your niche, but they can yield good results on your backlink strategy. And websites with high domain authority may not get the most eyeballs on your content, but they can get you the most leads.
Here are some other points of difference:
 

| | |
| --- | --- |
| Traffic | Domain Authority |
| Quantified by Google Search Engine | Formulation of independent agency Moz |
| Acknowledged by Google | Not acknowledged by Google |
| Potential to reach more people  | Potential to reach the target audience |
| Improves brand acknowledgment | Improves brand reputation |
| Mostly available on web directories | Not available on web directories |
As you can see, both of these metrics are excellent, so it all comes down to your website and the stage of your operation.
Let's move on to the factors worth considering while making a decision.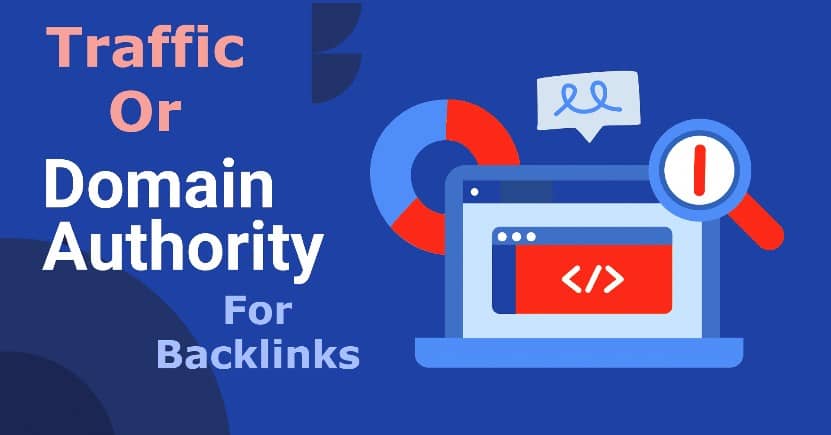 5 Factors To Consider When Choosing Between Traffic Or Domain Authority For Backlinks
1. Product Classification
When picking the best website for backlinks, the first factor you must consider is the product or service supported by your website.
A product can be classified into four types: convenience goods, shopping goods, specialty goods, and unsought goods.
If you can classify your product/service as convenience goods with established market awareness, you should prioritize websites with traffic for backlinks.
For example, if you are selling toothpaste, then the job of your website is to stand out from the rest of the toothpaste brands. This will require establishing an omnipresent web footprint on websites with the most traffic.
Now, if you can classify your product as specialty or unsought goods, you need websites with higher domain authority to establish market credibility.
Specialty goods are often the only kinds of goods in the market. Along with reaching your TG, your primary job is to educate people about your product. At this stage of product classification, chasing unqualified leads is counterproductive. Instead, it would be best to focus on high domain authority backlinks and developing relationships with reliable websites that rank high on the Google search engine.
2. Niche
The next factor worth considering is the niche of your website. If you have an info-centric and educational website, your backlinks should come from high-traffic websites with maximum reach.
And if you work in marketing and customer service, you should find websites that can give you high DA PA backlinks.
If your website is for a highly exclusive niche without an undersaturated market, then you will need more options for websites to offer your backlinks in. In this case, it will be wise to stick with high DA for your backlinks. Whereas, if your niche is saturated and with market awareness, the options are wide open.
3. Stage
Are you working on a new website? Or is it a fairly established website with years of content and crawlers?
When working on SEO backlinks for your new website, you can chase websites with high traffic. At this stage, the fundamental thing that matters is the eyeballs you can get on your content. You should be firing on all cylinders, which includes pitching your backlink to websites with higher traffic.
At the same time, an established business should aim for high-domain authority websites for backlinks. When you are working on earning credibility, you should focus on websites that are already considered to be trustworthy by the Google search engine.
4. Content
The type of content and the speed at which you publish it matter when you shop for backlinks.
With an in-house content team and a functioning content mill, you'll already have a website/blog generating traffic and improving its ranking and SEO on the Google search engine. If that's the case, you should go for DA backlinks with websites with a higher domain ranking.
On the contrary, if you have a pretty dormant website with no regular updates, then fetching a backlink at a website with higher traffic will suit you better.
5. Quality
High traffic is considered to be a boon. But there are other metrics you should focus on regarding traffic backlinks. Attracting the wrong time of content is the quickest way to bleed money.
If your goal is to generate leads, then going with traffic is an SEO mistake. You should go with websites with higher domain authority for it.
A glance at your bounce rate will confirm this for you. On average, the bounce rate should be 60%. If your website's bounce rate is somewhere near 80%, that confirms that your traffic quality is poor. Other metrics to look out for are CTR and average session time, which are indicators of the quality of your content.
Backlinks for website traffic shouldn't be your sole focus. You should also pay attention to the kind of content you publish and how it can organically increase your website's traffic.
Choose Your Pain Wisely!
It's worth mentioning that pursuing neither of these strategies is easy —but it's worth it. Acquiring a backlink on a website with a higher domain authority is challenging. It's the result of strenuous networking and good-faith transactions.
At the same time, most high-traffic websites offer backlinks in exchange for a monetary sum or favors.
We understand that it takes time to settle on a metric, and RankJacker SEO is here to help you.
If you're interested in taking your backlink strategy to the next level, hop on a call with us. We start with a content audit and analyze your website to identify its needs at the moment quickly.
Contact us, and let's get started today!